Welcome to a karaoke experience like no other
KaraFun Bar is the first network of karaoke bars combining a catalog of thousands of karaoke tracks, a light-show synched to the music, uniquely decorated rooms, selfie exchange directly from a smartphone, remote control options.... and lots more fun!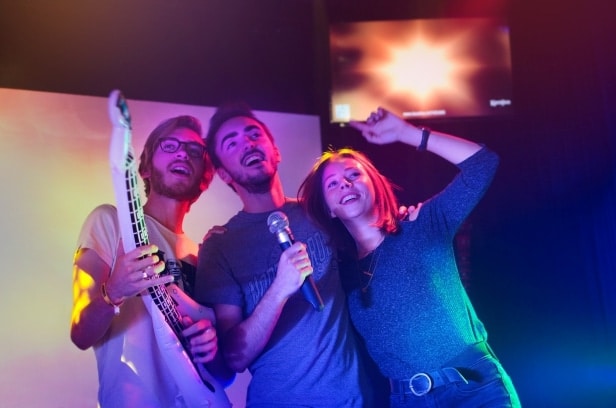 With our flagship bars in Paris, Lille and Brussels, KaraFun Bar offers the best karaoke experience in Europe.
KaraFun Bar uses the KaraFun technology, an ecosystem developed entirely by the KaraFun Group that includes more than 10 years of usage and experience from customers who love singing from their computers, tablets and smartphones.
---
Are you a journalist? Blogger?
The best way to talk about KaraFun Bar is to try it firsthand! KaraFun Bar welcomes the opportunity to open its doors to for a test run of our karaoke boxes! Come try it for yourself!
Get in touch to schedule a test session!
They're talking about us
Each song is like a new show and there are more than 30,000 songs in the catalog.
Vozer
16 rooms available to have fun singing with friends. Party on!
La Voix du Nord
KaraFun Bar Lille is a real karaoke temple. Luxurious, without a single bad note.
Petit Futé