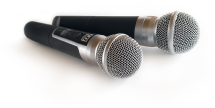 KaraFun Brussels
is opening in July 2020 !
---
Join us on Facebook for a behind-the-scenes look and updates about our events and offers.
---
Not just any bar, a karaoke bar at 10 - 12 rue de la Vierge Noire ! 300m² of 12 private karaoke boxes that can accommodate up to 25 people, KaraFun Brussels is looking forward to welcoming you soon for an unforgettable karaoke experience!
Expected opening: July 2020

Join the KaraFun Bar adventure in Bruxelles
Want to join the musical adventure in a people-oriented environment ?
A company where life and living matters, where people are a priority and smiling is our philosophy?